This Queen absolutely OWNED her session…hot damn. She thought she was just "quirky" and "cute"…but you will see in her galley that she can add a few more adjectives to that list!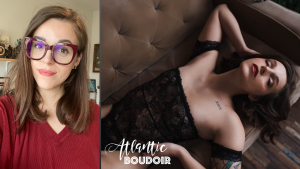 She borrowed two pieces from the Atlantic Boudoir Client Wardrobe, plus purchased her white two-piece set from Audacity Intimates…so all of her lingerie needs were taken care of right in the studio! For her artwork, she chose the Rose Gold Heirloom Glass Box with all of her prints inside plus the crystal USB with all of her matching digital files.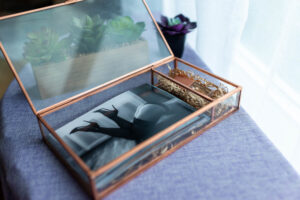 Read on for her stunning gallery and testimonial!
How do you think your session went?
AMAZING!
What was the best part of the experience for you?
Being able to laugh and feel completely safe with Alisha.
Now that you've completed your session and seen your images, is there something that you would have liked to tell your pre-session self to do, not do, or not to worry about?
You WILL want to upgrade the investment products! Save more money next time, girl!
Would you change anything about the experience? If yes, what specifically? Is there anything we can improve?
Absolutely not.
How would you rate your body confidence post-session on a scale from 1-10?
10 (Pre: 7)
How do your photos make you feel empowered? Do they make you feel seen? Describe how you might see something in yourself you haven't seen in awhile (if you feel that way).
I always thought I looked too young for my age which gets pretty annoying when you want to be seen as a sexy adult…and holy hell, I am a sexy adult!
"I've never really had an issue with confidence, but I had no idea I could feel this good about my skin and sexuality on a daily basis! It's only been a few days since my shoot and I am walking taller than I ever have. Trusting Alisha with my first boudoir experience was the best decision I could've made for myself – she is genuine, thoughtful, funny, and very comfortable to be around – besides being fantastic at what she does! My perception of self has always been the quirky cute type, which isn't exactly empowering for me coming up on 30…NOT ANYMORE! I am hot, I am gorgeous, I am sexy every day and that is an incredible feeling to have! I've been recommending Alisha to anyone who will listen."
Hair: Jasmine Vesterfelt, Jasmine Kay Hair Co.
Makeup: Melanie Fuller, Kiss and Makeup
Schedule your consult call with me, and we'll talk about bringing out the side of you that you've never seen!