This chick was soooo much fun to work with! She just has that natural confidence and glow, and looked incredibly fabulous all glammed up – like a 1940's Hollywood starlet.
Ms. B chose to wear a yellow teddy on the black satin sheets, and I think it's one of my favorite color combos to date. Thanks for traveling all the way to Wilmington to shoot with me!
How do you think your session went?
AMAZING!!!
What was the best part of the experience for you?
Viewing the photos! I was astonished!
Now that you've completed your session and seen your images, is there something that you would have liked to tell your pre-session self to do, not do, or not to worry about?
Just to start paying about a year ago…I WANT IT ALL!!!
Would you change anything about the experience? If yes, what specifically? Is there anything we can improve?
Nope…it was AWESOME!
How would you rate your body confidence post-session on a scale from 1-10?
8 (Pre: 6)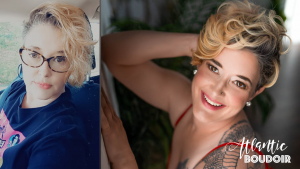 "Not only was Alisha an awesome professional, but she was so friendly and sweet! She was welcoming and creative…she made me feel like a movie star!"
Hair and Makeup: Felicia Dixon, Hair Tease Salon/BBJ Beauty
Let's talk about creating the boudoir session of your dreams!