The beautiful Ms. C came in for her session a little bit nervous, but that didn't last long! I was excited to highlight her gorgeous hair, freckles and stunning blue-green eyes. Plus, all three outfits she wore are from the Client Wardrobe! I can't decide which one is my favorite…
Read on for her testimonial (the shoot brought her body confidence to a 10!) and (most of 😉) her striking gallery that she got printed in an heirloom album as a gift for her partner.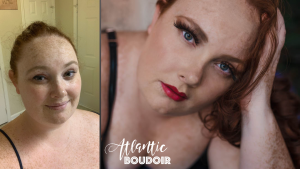 How do you think your session went?
Great!
What was the best part of the experience for you?
It's hard to choose. The whole thing was amazing!
Now that you've completed your session and seen your images, is there something that you would have liked to tell your pre-session self to do, not do, or not to worry about?
Don't be nervous, and be prepared to have fun.
Would you change anything about the experience? If yes, what specifically? Is there anything we can improve?
Not at all.
How would you rate your body confidence post-session on a scale from 1-10?
10
How do your photos make you feel empowered? Do they make you feel seen? Describe how you might see something in yourself you haven't seen in awhile (if you feel that way).
These seeing my photos gave me a much needed confidence boost. It made me feel empowered and beautiful.
"Atlantic Boudoir is not just a studio for photos – it is an experience. From the moment you show up until the moment you leave, Alisha and her team are very attentive and ready to help. Any nerves I had pre-session immediately went away. I truly felt like a queen with all my much-needed pampering. If you're in the market for boudoir photos, Atlantic Boudoir is the place to go!"
Hair/Makeup: Felicia Dixon, Hair Tease Salon/BBJ Beauty
You deserve to feel like the queen you are! Let's chat about showing off your crown!