Atlantic Boudoir referral program
Hey babe!
Let's make sure you know all the perks of my referral program now that you've officially completed your session!
I'll be straightforward – I want you to tell your friends about me.
A friend of yours is a friend of mine! I celebrate referrals and shower you both with goodies and discounts. I want to treat your friends to this amazing experience so that her life can be changed for the better, too.
Here's how it works:
When you refer a girlfriend and she books a session with me, you both will receive awesome bonuses!
There is NO LIMIT to the amount of referral bonuses you can receive.
Each of your studio bonuses will become active after your friend's session with me has been completed.
She will get one free bonus image with her order ($150 value!)

You will get to choose between $100 studio credit to put towards your *next* session with Atlantic Boudoir, or a surprise gift from me!
Simply tell your girlfriend to mention your name during the INQUIRY process, before she pays her session fee, in order to be qualified for the referral program!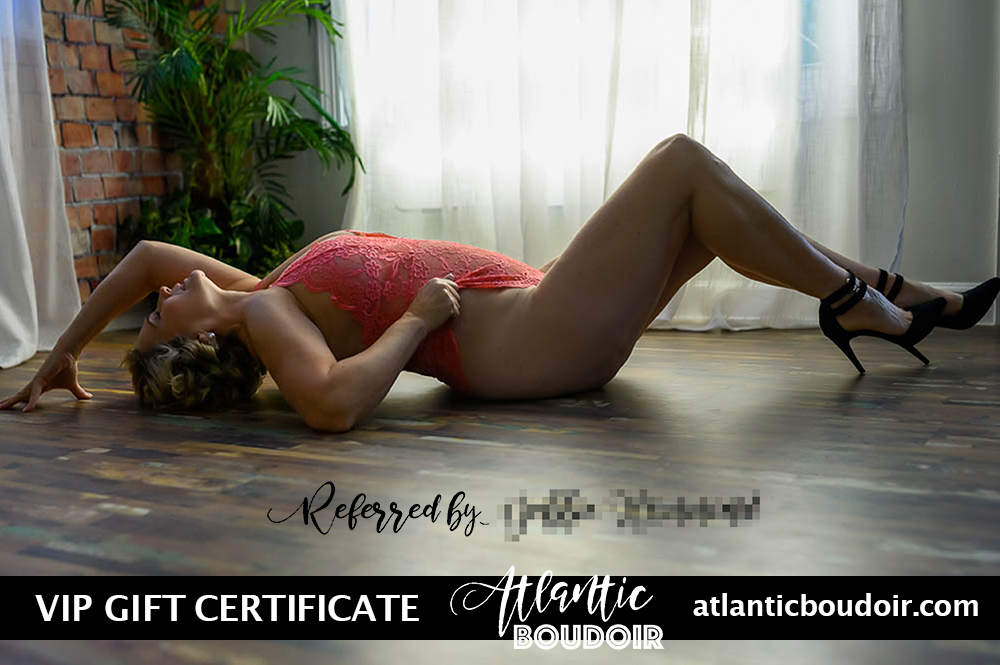 Want your very own referral cards?
I think one of my favorite parts of my referral program is the cute digital referral card I send you right after your session! You choose one of your favorite images at your reveal and I make it up and send it to you ASAP. While you don't "need" referral cards to send/receive referral credit, it is definitely a fun way to show off your pic plus send a friend an awesome gift!
Want to accrue EXTRA referral credit, RIGHT NOW, to get you started? Do any of the following items to receive BONUS referral credit!
Once you complete one (or two, or all), of these tasks, shoot me a quick email letting me know what you've done so that I can mark your account.
But don't wait, because I am only giving you 60 days from your session date to complete these tasks before the bonus credit offers run out! Just think, if you completed them all, you'd have $275 in credit and you haven't even referred anyone yet!
Good luck! I can't wait to work with your friends, and with you again, too!
xoxo, Alisha