Yeah, you're going to get gorgeous portraits of yourself, but it's really SO much more.
My goal is to have you leave my studio walking like the Goddess that you are…
How do I make sure every client loves their images?
1
consultation & wardrobe
I meet with you in person at least one month prior to your shoot to show you how to be 110% prepared and ready to be courageous, ultimately leading you to be more comfortable and radiant in front of the camera. At this consultation, I help you feel confident in your outfit selection based on your body type by assisting with selecting and trying on pieces from my extensive Client Wardrobe (containing sizes XS-6X as well as gorgeous body jewelry) so that you know you're flattering your body shape and ready for the camera. I help you select all three outfits for your session that will make you look and feel like a model.
2
professional hair & makeup
My professional team of stylists provide hair and makeup application tailored to your desired look (i.e. dramatic, more natural, etc.) so that your natural beauty shines through while still looking like yourself. Our makeup artists are trained in creating looks that translate well on camera and highlighting your best features.
3
complete posing guidance & consultation
I help you feel photogenic and beautiful by coaching and posing you throughout the entire session (including showing you how to do the poses myself!), and using lighting and angles that flatter your body shape and all of its amazing parts. I am so detailed in making you look incredible that I even coach you in facial expressions (including how and when to part your lips), back arches, toe pointing, and chin angles so that even the most "awkward" person looks completely photogenic.
4
same day image reveal/ professional editing
When we complete the session, you enjoy a break to eat lunch called in to you followed by a luxurious one-hour massage (like a true supermodel) while I narrow down your shots to your top 100 jaw-dropping photos to choose from. I then professionally retouch all images you choose to purchase to complete the transformation of you into a work of art.
Chose from multiple different sets in our Wilmington, NC studio. Sunset beach sessions can also be scheduled May – September!
Capture your confidence in physical form…forever.
If you've ever shopped for art of any kind before, you know prices are all over the map. That's certainly true with photography as well, and like with other art, those prices aren't easily compared – it's not apples to apples.
With a Session Fee of $350 and products starting at $947, you'll find that my work is neither the cheapest nor the most expensive in the area, but it does represent one of the best values for the experience and products that we provide.
With a perfect review record on Google, dozens of overwhelmingly positive client testimonials and a satisfaction guarantee that I take very seriously, you can invest confidently knowing your money will be well spent.
Digital files come with all collections but believe me – you're not going to want these images to sit on a USB in a drawer.
We create gorgeous artwork together!
FREQUENTLY ASKED QUESTIONS
What IS a boudoir photo shoot?
I like to think of boudoir as intimate, honest and glamorous portraits, but really, it's about empowerment. It's the chance to be vulnerable and express a side of yourself that you may have lost touch with, or one that you love to bring out every once in a while! My 100% female team will make you feel beautiful, comfortable and at ease.
What if I don't want anyone else to see my images?
That is 100% your choice! The only reason that I have client images on my website, social feeds, and marketing materials is because those women gave me explicit permission to do so via their "Model Release Form." Everyone is required to sign one of these forms at the end of your session, but there are four different levels of release you can grant. You can read more about these in this blog post.
But I'm sooo nervous – I've never done anything like this before!
Girl, almost everyone is nervous to do something like this – that's what makes it so fun! Use this opportunity to step outside of your comfort zone and feel an intense rush of pride and happiness that you did something for yourself. Plus, we have a lot of fun and you won't be nervous once we start shooting!
Where is the studio located?
Our studio is located at 108 Grace St. in beautiful downtown Wilmington, NC. We are walking distance to a variety of restaurants, bars, shops and hotels!
When will I get to see my photos?
The same day as your session! You take a lunch break, get a massage, and then they're ready for the big reveal!
Will you retouch my acne/wrinkles/cellulite/bruises?
Yes – I professionally retouch all of your purchased images. I do not change body shapes, but I do smooth skin and remove blemishes, etc.
I'm a curvy/"older" woman – can you still make me look good?
Um…yes! I photograph women of all ages, sizes, and shapes. We are all unique and boudoir is for everyone!
How far in advance should I schedule my shoot?
Because I specialize in boudoir, my calendar fills up quickly. I recommend coming in for your shoot 4-6 weeks before you need your album.  No matter what your timeline is, give me a call – we can sometimes accommodate last minute requests.
What do I need to bring to my shoot? What about waxing, tanning, nails? Can I bring my boyfriend's football jersey?
I offer a Client Wardrobe with pieces in sizes XS – 6X for my clients to borrow if they wish! You can try on pieces at the pre-session consult. We also have accessories and jewelry at the studio for you to use.  I will send you a detailed wardrobe guide, session guide, and multiple emails before your shoot with everything else you'll need to know about getting ready.
How can I get this process started??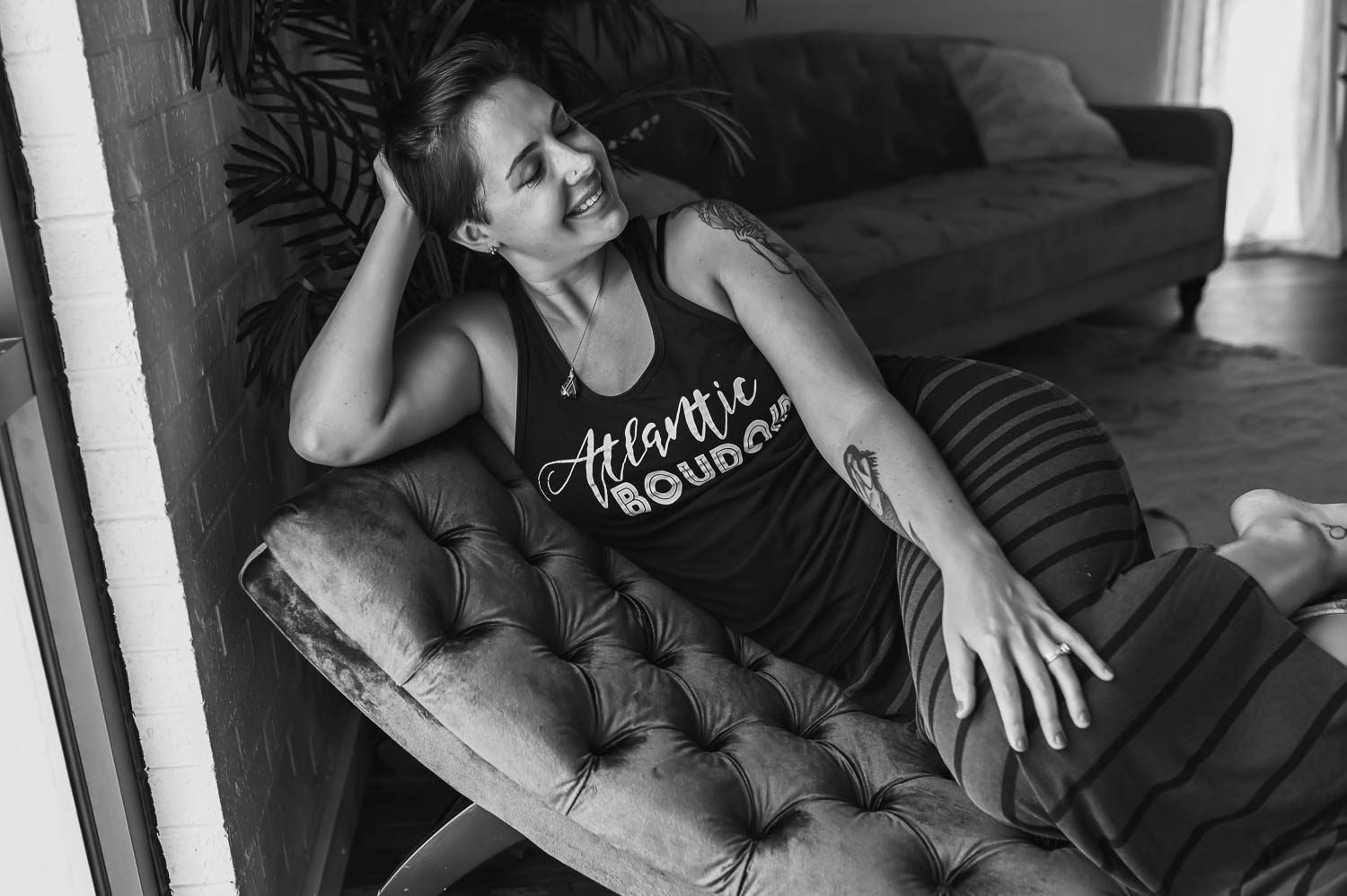 Schedule a call using my calendar linked below!
"What we need are women who are full of themselves. A woman who is full of herself knows and trusts herself enough to say and do what must be done. She lets the rest burn."
– Glennon Doyle