Updated May 2021
If someone asked you to describe a "boudoir portrait experience," what would you say?
To give you an idea of what to expect, I've outlined a play-by-play below – and I'm willing to bet it's different than what you have imagined!
BEFORE YOUR SESSION DATE
The first thing that we do is schedule your in-person pre-session consultation here at my studio in Wilmington, NC. This is simply a 30-minute meeting so that we can meet in person (that helps with the nerves!), you can see the studio space and touch and feel sample products like albums and wall art, and the best part…wardrobe planning!
I have a client wardrobe in sizes XS–6X that my clients are welcome to borrow for their session. At this consultation, you are able to try on pieces from the closet to see if any of them will work for you! It doesn't matter what you wear underneath these pieces during your consult, but you must bring nude/black thongs with you to your session to wear underneath my client wardrobe. My normal full-length session includes three outfits, so if you need to go shopping in addition to my client wardrobe or items you already own, I help with that, too! I have lots of ideas saved and can send you some personalized recommendations once I know your style and size.
NOTE: If you're not local to Wilmington and are driving in for a session, that's okay! We can do a video chat for your consultation so you can still do everything but try on outfits. 🙂
You will be sent multiple emails with tips, advice and reminders up until the day of your shoot. However, the most important thing that you will receive is your pre-session questionnaire. This short survey will help me get to know you better and make sure that I'm able to customize your experience to you as much as possible, down to your music preferences!
ON YOUR SESSION DATE
You will arrive to the studio at 9 am the morning of your session. We ask that you come with a clean, moisturized face, dry hair and in comfy clothes that will not leave any strap indentations!
We get you changed into a robe, I pour you a drink and we get you into hair and makeup! There will be music playing and fun conversation with me and my stylists.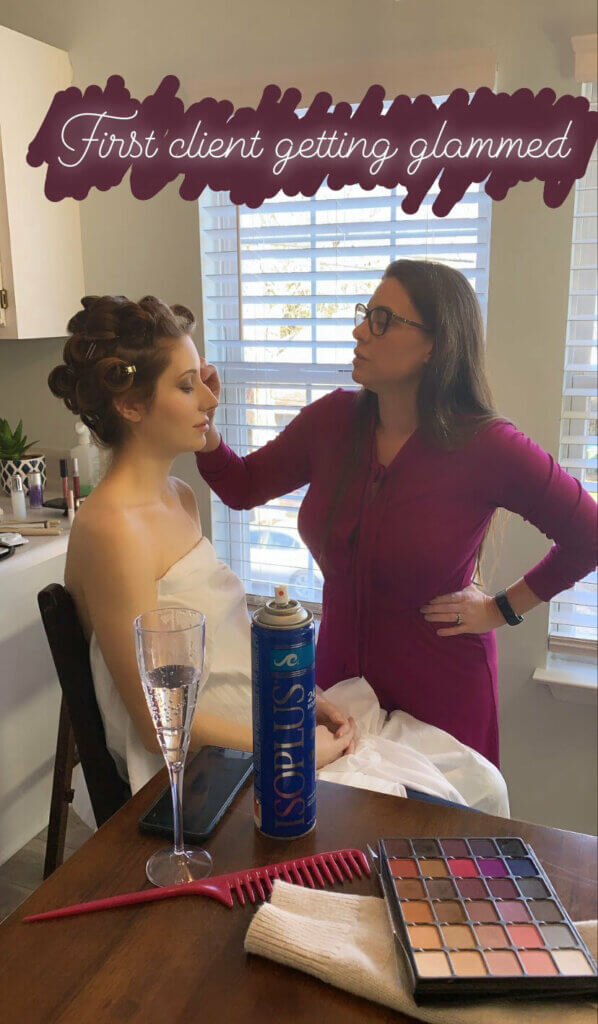 After you're fully dolled up, we head up to the studio and decide the order of your outfits (it's very strategic, you know!). If we didn't decide on your sheet color at your consultation, we determine that as well. Then, you're ready to slip into your first outfit and get shooting!
I direct and pose you the ENTIRE time – for EVERY shot! If you ever need a break to pee, get a drink, stretch (it ain't easy, you know!), you are 100% free to do so. We usually complete the sets in about an hour and a half. When we're done, I send you off to a different room in my studio building to enjoy your catered lunch that you will have picked out in advance, followed by a ONE HOUR MASSAGE ( you will have earned it!) and I get going on narrowing down your images.
After about an hour, you return to the studio and we settle in to review your best 75-100 unedited images on the flat screen TV. (Don't worry, it's not as scary as it sounds.) This is when we go through all of your gorgeousness and you pick the ones you'd like to purchase. We also design the album spreads together so it will look exactly how you want it to! You get to choose your album cover, which image you want for your referral card, and which images you want for your bedside art.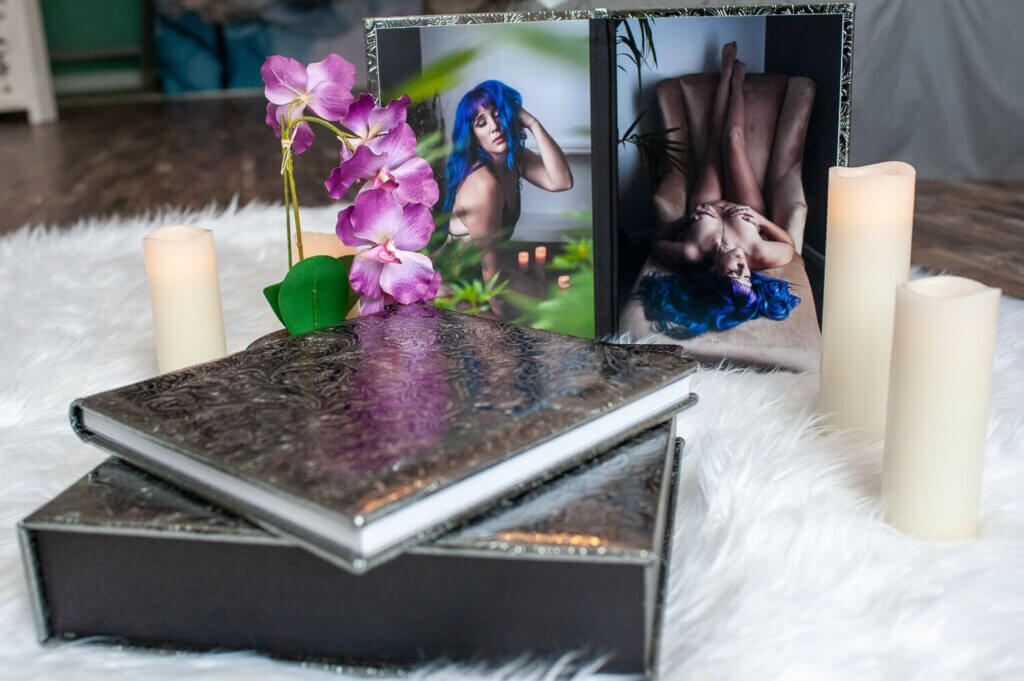 If you decide to pay for your images in full at the appointment (or if you took advantage of a pre-payment plan), your images immediately go into my editing and ordering queue, and you can expect to receive your products in 4-6 weeks. If you'd like to take advantage of our interest-free payment plan, we set up a payment schedule that works for you; once you've paid in full, I get to edit your images and order your products! We typically finish up the day around 3/3:30 pm.
AFTER YOUR SESSION
You will leave the studio feeling like a million bucks – I promise! You will receive another email from me with a link to a post-session survey as well as a link with details to my amazing referral program. I will send you your digital referral card as soon as possible so that you can start showing off your hotness! If you are local, I reach out to you once your products are delivered to me and we schedule a time to meet so that I can deliver them – with a gift bag as well! If you are not local, I can have your products shipped to you directly.
Sounds fun, doesn't it? That's because it is! We will laugh, celebrate your general awesomeness (lots of "OMG, YAAS!" from me), and maybe even cry happy tears. I can't wait to provide this experience for you!