Ms. B was gifted her session from a good friend (what an incredible friend, amiright?) and came to see me back in June. Her stunning legs, tattoos and beautiful hair and eyes captivated me from the start! Check out her gorgeous gallery of the favorites she picked from her session.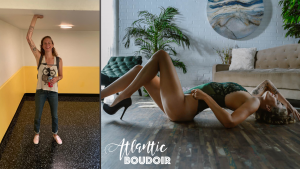 How do you think your session went?
So much fun!
What was the best part of the experience for you?
The creativity of expression
How would you rate your body confidence post-session on a scale from 1-10?
8
Hair: Felicia Dixon, Hair Tease Salon
Makeup: Melanie Fuller, Kiss & Makeup
Let's chat about your own session! Book a short call with me to learn all the details and ask your questions.